Season 5
Major corporate support for FINDING YOUR ROOTS WITH HENRY LOUIS GATES, JR., Season Five is provided by Ancestry, Johnson & Johnson and AT&T. Major support is also provided by the Ford Foundation, Candace King Weir, the Robert Wood Johnson Foundation, and by the Corporation for Public Broadcasting and PBS.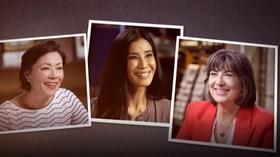 Journalists Christiane Amanpour, Ann Curry and Lisa Ling learn their family histories.
Dr. Gates, brings Felicity Huffman and Michael K. Williams their family histories.